The YOOBIC Solution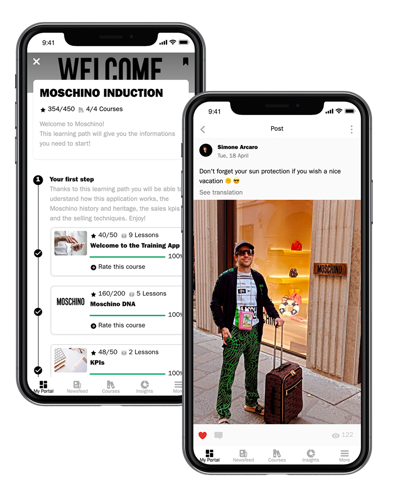 YOOBIC's social media-like look and feel caught Luca's attention for its user-friendly interface — and with its native content builder inside the platform — Luca realized it would be much easier to develop engaging, relevant microlearning content quickly.
Not only that, with YOOBIC's robust language translation capabilities, Luca would finally be able to successfully deploy learning programs globally — something Moschino hadn't been able to do.
Learning and development looks very different now for Moschino. With YOOBIC, it creates and deploys shorter, more engaging training courses and contests that store employees enjoy completing. Moschino can launch new training programs across every one of the boutiques globally, including Asia. Luca has set up dedicated spaces, called Communities, inside the app for employees to connect across time zones, share their knowledge, creativity, and insights, and support each other's learning journey. Now, training is up to 98% completion across the entire 150+ boutique network.


Results
Training program completion increased to 98% across the store network with YOOBIC.
Communication and learning are managed and deployed globally, thanks to the translation tool in the platform.
Global training has been launched to store teams in Asian countries for the first time.
Store teams report being excited about training, with an average rating of 4.7 out of 5 on courses.
Store employees are more engaged with the company and each other because of the YOOBIC app.